We give you an overview of job opportunities, suitable companies, interesting job offers and exciting events. Find out and see for yourself how diverse and innovative working in the rail industry can be – how tasks change in times of digitalisation and automation and how completely new job profiles are added.
Automation and digitalisation are the keys to future viability.
They reduce heavy physical work, but do not replace the human being who has to operate, set up and monitor all these systems.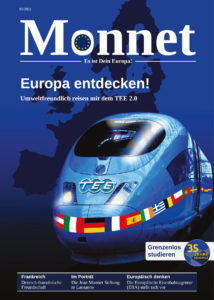 The Europe Magazine for Politics, Business, Art, and Culture
MONNET is the Europe magazine for young people. Since 2016, it has been inspiring pupils, trainees and students to discover Europe by train, especially in an environmentally friendly way. At the same time, MONNET, which is named after Jean Monnet, provides exciting information on European culture and history as well as study and training opportunities in the EU.
The current issue (in German) is available for free download HERE!
Do you want to actively shape the mobility of the future?
Are you looking for information on how to succeed?
Then you have come to the right place.
Zukunftsbranche Bahn. Today more than ever!
Because only with a strong railway will we succeed in developing
modern and climate-friendly mobility and logistics in the future.

Zukunftsbranche Bahn is supported by
Reports, tips
and hints
for beginners, intermediates and switchers
Bewerbungsformen Ihr Messeauftritt war erfolgreich und Sie haben sich einen Überblick verschafft, welche Unternehmen Sie interessieren? Wissen sogar ganz konkret,…
Das Anschreiben Das Anschreiben spielt für die Kandidatenauswahl ebenfalls eine Rolle, wenn auch eine untergeordnete. Wenn Sie hier gut formulieren,…